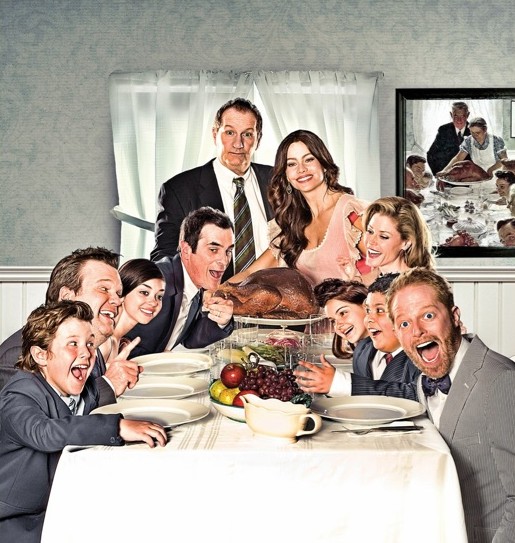 Modern Family is my new favorite show.
It's actually the only show I watch on television.
It's funny, real and the writing is brilliant.
They are anything but traditional, but they love each other ... mostly and make most of us laugh for 30 minutes. Well, I guess 15 minutes if you consider commercials.
I love the picture of them at the Thanksgiving table.
Thanksgiving brings out the traditionalist in me. It is my all time favorite holiday.. ask my hubby and kids.
There is no where I would rather be than my kitchen, cooking for hours... really. I want as many people as I can fit at my dinning room table and then I am sure we can squeeze in a few more.
This year is different. I am not at home, it is not cold or fall-like outside and I am not cooking.
That's okay, some years you have to roll with the snow balls.. or surf with the waves.
I am at the beach
and someone else is cooking my dinner.
The reason for the day remains the same no matter my surroundings.
It reminds me to be grateful for all that I have.
I am thankful and I will reflect on the grace and mercy of God.
Enter his gates with thanksgiving;