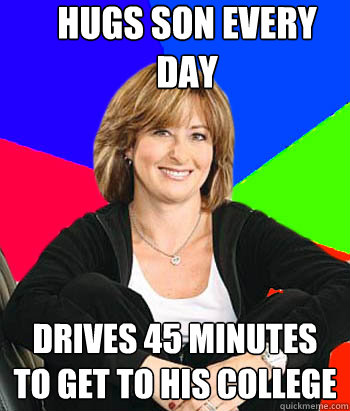 I was listening to a radio station last week. There was a give away entailing a trip and a concert. It was a Christian station. The big one. I wasn't listening to the details, but it was a big deal, this prize.
What did catch my attention was the lady they had called, a finalist for the prize. A mama, who had just delivered her boy to college. I believe she said he was her youngest... and she was suffering from empty nest.
I get it.
She was pumped to win this prize, a trip for two, excitement bubbling in her voice, and then she said these words....
"Oh, I need to win. I've been so sad and if I win it will be great... I'll take my son."
Hold it... what?!
You will take your son? You just let him go, you can't have him back.
Trust me on this mama... don't go there.
When I heard her say this, I burst out laughing and shouted . "No, you can't do that mama."
Sound harsh?
Sorry, not sorry. No hash-tag needed.
After the initial laughter, I felt a sadness creep in. I understood her feelings, but she voiced them and it seemed she crossed a line. At least for me, it's a line I will not cross.
You have to let go.
For him, for you, and for your husband.
(If you do not have a husband, this is that much harder... but the rules remain the same)
There is a push and pull in the growing of young men, especially when it comes to their mamas.
There is a sweet closeness when they are young and even now my boy who is 20, is quick to hug me and share deep thoughts and concerns.
When he was young I watched the growing of a little boy, into an awkward twelve year old, then a confused young teen and now a confident... though not quite done, young man.
It was hard to watch and know when to pull close and when to hold back.
I was grateful he had a dad he could talk to, wrestle with, sometimes physically, other times verbally. Most importantly a man he could look up to.
When I see my boy now, I am happy for the moments we share, but they are different, both in duration and role.
He still needs support, spiritual, emotional and financial but not in the day to day relationship we shared under the same roof.
I have cut that string, or perhaps he did.
He makes his choices, good or bad, his friendships, his way in this world.
He has professors, mentors, and coaches who continue to mold him, where we left off.
This is where he becomes a man.
I miss my little boy some days, but I am pleased with the man I see him becoming. I enjoy our relationship in new ways. He is fun, he makes me laugh and he challenges me in new ways.
He is at the age where any day he may meet that girl, the one he falls in love with, can't live without.
My future will hopefully include his wife, who I hope loves me.... or at least likes me.
The time I spend with him will not be one on one, maybe ever.
This can be hard.
Most mamas don't think about this when in the fray of raising babies, changing diapers... trying to keep all the balls in the air.
It creeps up on us, in the middle of never ending homework, baseball games, dance recitals and
one more science project.
We can't wait to have a minutes peace and then we look wide and see we have all day, all week... the rest of our lives.
We have given them wings and they are flying ...
I think of that mama on the phone with the radio station. I hope she is finding her way, and the role that God has for her today. If we are blessed to be called moms and dads then we are rich and I can think of no greater opportunity for joy and heartbreak.
I don't laugh at her, or make light of her feelings. I pray for her, for us, because we will all have those moments of missing the most important role we ever played... in the best movie of our career.
When we give these precious ones space and wings to fly we usually get a good response.
I hope this mom and all of us mamas get this response.
Thanks mom.
God gives us many roles in this life and if we let go of these beautiful creatures he has blessed us with, giving them their wings... we may also find new wings.