Time flies when you're having fun..
and sometimes when you are just very, very, busy.
Life is careening around the corner, catching me off guard and throwing bags of busy at me.
Ever have that happen?
Want it to?
Me neither.
It might be partly my doing, a character quality or flaw, a gift... or not.
It is who I is.
I own it, 100% and make no excuses.
My daughter asks if I can ever relax. I thought I was relaxed.
She must know a different version of relax. The one where you sit down and well, relax.
I call that,"doing nothing".
Not so good at that.
I lean more to the "Ya rest, ya rust" idea.
But it's not all my fault.....
It's her fault too.
Part of my busy is my kids.
Kids need us moms (and dads), no matter the age. I still need my mom and she is always quick to help.
Kids make choices that affect my choices.
I will push the limit to get the best result for my kids, my husband, my family.
I am called to do that.
Will I do that for someone else?
I am called to give of myself, no matter the relationship.
It's easy (well, not always) to love my family.
What about my neighbor?
Will I make any effort for them?
After all, I don't really know them.
And.. I am kind of busy.
Each time I meet someone it is an opportunity to start a relationship, or not.
I can hold them at arms length or I can welcome them with open arms.
Open arms get tired sometimes. The weight of relationships can become a burden...
if we try to carry them, fix them, build them .. all by ourselves.
We need help.
As I need help relaxing from time to time.... from being busy.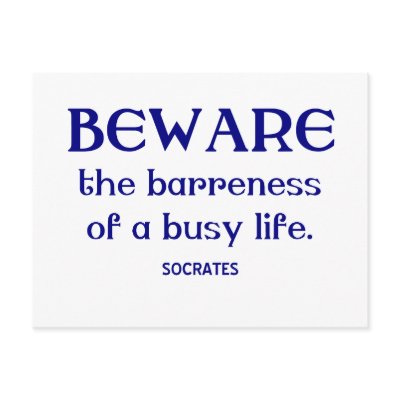 Thanks Socrates for this great reminder today.
And thank you God for your word that encourages me and reminds me daily what you have in store for me.
You first = a life of balance.
A life that includes the stranger, my neighbor, those you bring into my arms. A time to be busy and a time to relax.
"Seek first the kingdom of God and His righteousness and all these things shall be added to you." Matthew 6:33